OurFamilyHistory tells  the story of the ancestors and descendants of people whose last names are shown on the tabs below.  These are the main research branches of the family tree.  There are, of course, dozens of names in the tree – see this list.  Names in brackets indicate where a woman's maiden name is not known, so she has been assigned her husband's name until we discover hers.

Research started  in the 1960s when Fred Barrett wanted to discover the source of his unusual first name "Ferberd." This was genealogy the hard way; traipsing around overgrown churchyards hunting for headstones, poring over Parish records, at least until we discovered that some had been destroyed in a fire.
Lately the research of the Barretts has been picked up by Fred's daughter Sheila Wheatley and his son, me, Paul Barrett. Sheila and I (but mostly Sheila) added the Howell and Fincken branches.
Research into the Clark(e)s from Surrey and the Hacketts from Nottinghamshire was started independently in the 1990s by Frank Clarke. and has been picked up by his daughter Barbara and me.
No study of the Clarkes of Bagshot can be carried out without referring to the Chapman, Hammond and Hockley families, as their relationships with the Clarkes form a complex web.  And there are plenty of Postins, Postans, Postens, Postings in the mix too.  Use the buttons below to view them.
Research into the Hacketts from Basford, Nottinghmashire, England was started independently in the 1990s by Frank Clarke. and has been picked up by his daughter Barbara and me.
Research into the Howells from Potterne, Devizes, Wiltshire, England was carried out by Sheila and me (but mostly Sheila), and we also added the Fincken branch.
There is a slight complication in the Wheatley branch of our tree because we have an outlier – a Phoebe Wheatley who is part of the Barrett branch.  She is not connected to the Wheatley branch,  Or, is she?
The tabs that follow are for One-Name Studies.
We have been trying to find the origin of the name Ferberd for years.  We know how it came in to our family, but we are still trying to trace its source.  This is why we have chosen to create a tree that is dedicated to all Ferberds, regardless of whether they are related to us or each other, or whether it's Ferberd as a first or last name.
The Guild of One-Name Studies focuses entirely on last names and, from an initial contact on their Facebook page, they suggest that most unusual forenames are usually derived from last names.  Recent research of the Berkshire Family History Society's CD Archives has in fact revealed many last name uses as the timeline shows.
The Heartland of "Our" Ferberds
Places Heat Map for ALL Ferberds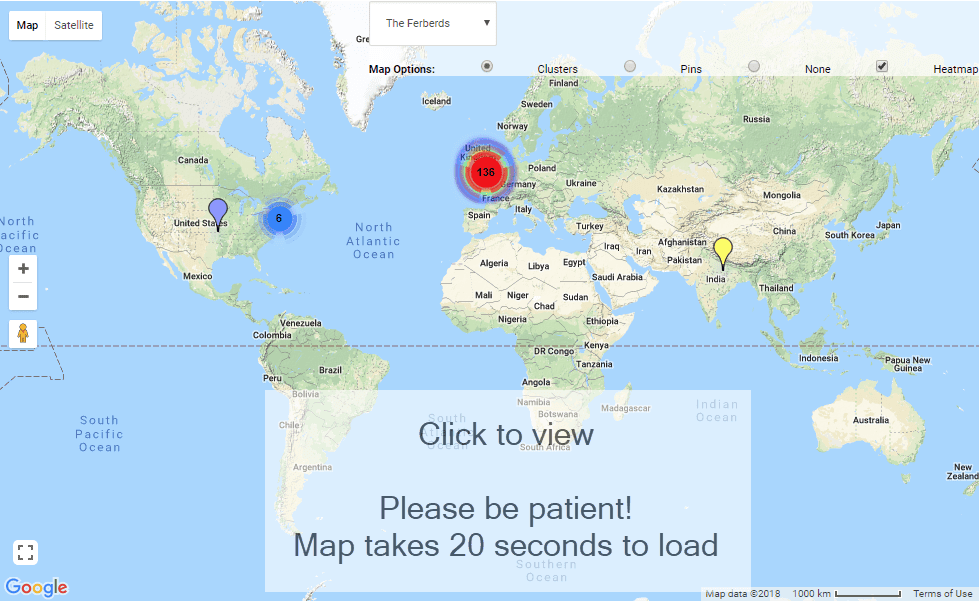 Timeline for the Ferberd Name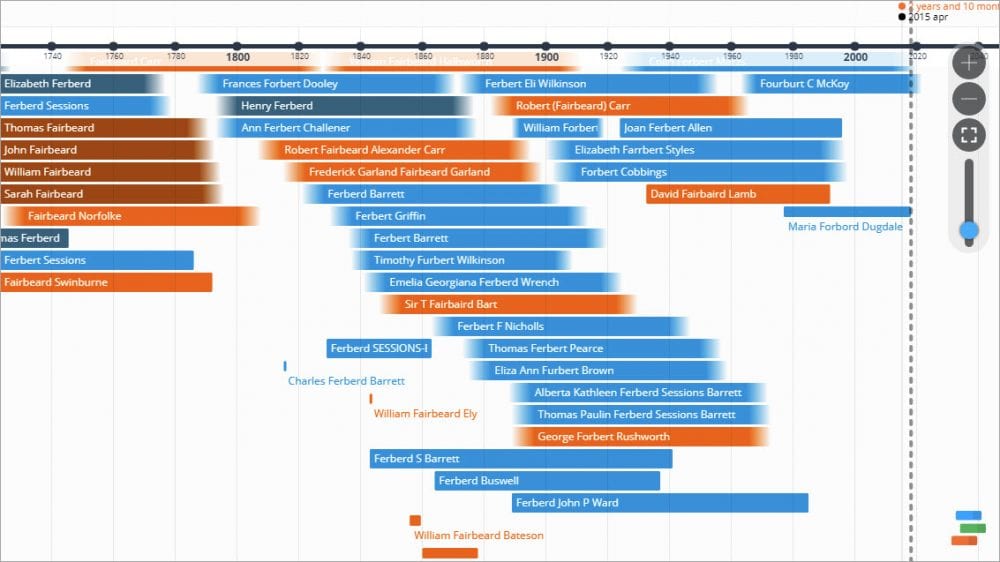 A timeline to show when the variant forms of the name appeared and disappeared.  For more detail see this post.
People in our Ferberd Tree
Articles on the Ferberd Name