Our investigations into the source and usage of the name Ferberd, which is usually a given name but sometimes a family name, have uncovered a few that emigrated from England
This article describes them.
This Ferberd is one of ours – he belongs to the Barrett family.  His immediate family looks like this: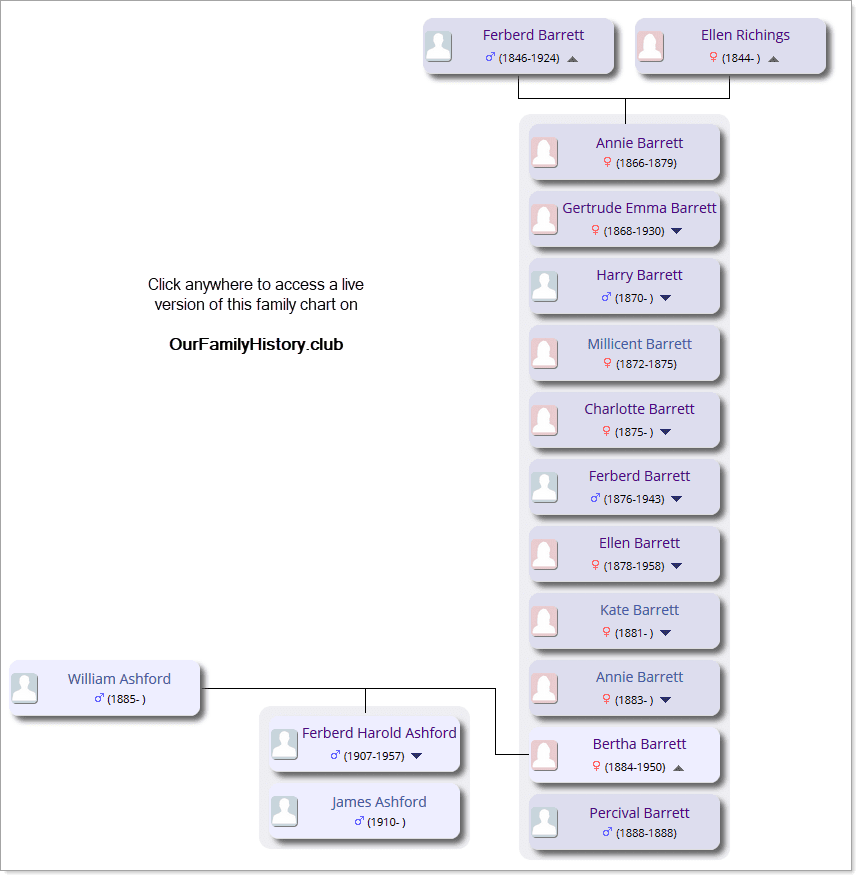 Ferberd Harold Ashford        © OurFamilyHistory.club
He is the son of William Ashford b Abt 1885 and Bertha Barrett b 1884. Bertha's father is a Ferberd – the first in the family to have the name – his parents having "borrowed" it from the local doctor,  Dr Ferberd Sessions-Barrett (no relation).  Bertha has a brother called Ferberd and her brother, Harry, names one of his sons Ferberd Henry. The family seems to be somewhat obsessed with the name.
Ferberd Harold (FH)'s birth details are unsubstantiated. Sheila Wheatley reports that,
A chance contact through an ancestry website, Carol, who had been searching for Bertha's brother, Harry informed me Bertha was her grandmother and married a William Harold Ashford a carpenter in the Merchant Navy on board ship when it was docked in New York. The year of marriage is not known but their eldest son Ferberd Ashford was born in 1908, also aboard ship in New York.
So far we have been unable to trace a birth record for him.  I am not sure of the status of children born on board a British Merchant Naval vessel when docked in a US port.  Was FH a British Subject or a US Citizen?
Having started out in a complicated way, his marital life became even more so – and it took a lot of unravelling to make sense of it because he married a Margaret Graham in 1947 when he was 40 and she was 25.  Their daughter Isabel Ashford was already 6 months old when her parents married.  Margaret died just 2 years later.  In 1951 FH remarries to a widow called Margaret Maud M Sawyer, née Clarke 1who had a son called Richard W Sawyer1 b 1939 that FH must have treated as his own because when they emigrated to America he was called Richard Ashford on the passenger manifest (with Sawyer as a note alongside his last name). This complex arrangement is easier to follow in a diagram: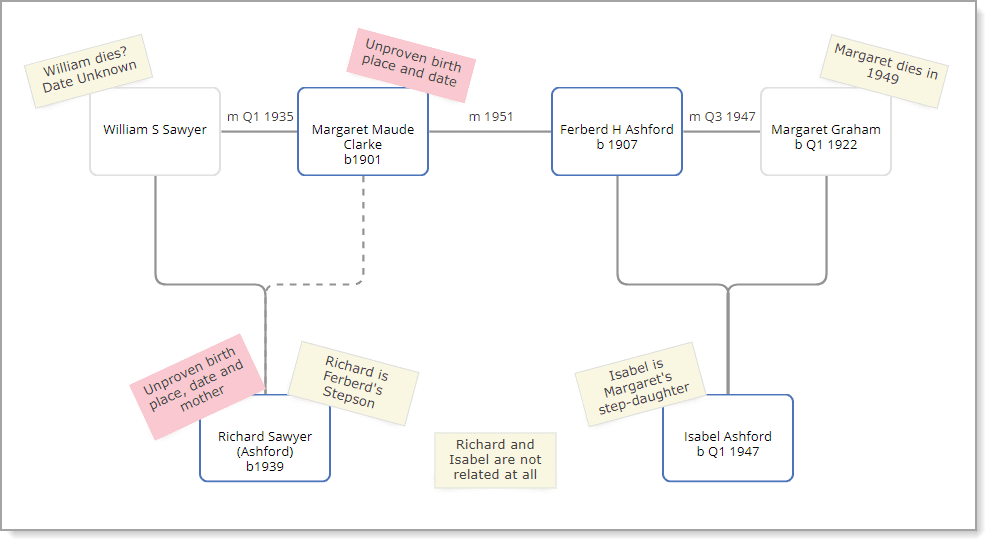 Unravelling this complex set of relationships was made more difficult by the fact that both his wives were called Margaret.  It was only the fact that records seemed to flip between Margaret and Margaret Maude, and that we had problems reconciling some dates that led us to the truth.  That plus some States-side help from people on the Genealogy Trees Tips & Tricks Facebook Group, particularly from Terry Fitzgerald.
And, as I write this, there is information in from another member of that group, Dawn Bruff, that Richard Sawyer (had reverted to his birth family name) may have returned to England because there is a cremation record for him in Amersham, Buckinghamshire, England.  To be investigated further.
1The exact facts around Margaret Maude Clarke and her son Richard W Sawyer are unclear.  The birth index of the only Richard Sawyer in the UK public record at that time shows his mother's maiden name as Millington, and I have been unable to find a birth record for his putative mother Margaret Clarke.  However this is incidental to our main line of research – the origins and usage of the Ferberd name so I am not pursuing it, although some birth and marriage certificates would be revealing,
There are several other Ferberds who emigrated,  This article will be updated as their stories are uncovered.