When the family tree was transferred from Ancestry to TNG via Family Tree Maker (FTM) a glitch caused hundreds of media files, mostly documents, to become detached from their "owners" and I am currently in the process of reconnecting them. I am purposefully making time to critically examine the data in the documents to validate against the data in our family tree, a lot of which had been gleaned from Ancestry hints from other member trees.
Many people on genealogy forums that I belong to distrust information from other member trees because it is badly researched, often has no sources to back it up and is simply derived by copying verbatim from other member trees without any form of validation. Then other members copy it to their trees and, before long, the hints are heavily biased towards bad data. The result is a never ending stream of poor quality Ancestry hints, which was one of my reasons for moving from Ancestry to TNG.

This article describes one of the more interesting cases that I found.
1861 England Census
The 1861 Census for John Barrett included a few interesting entries, shown below in descending generation order.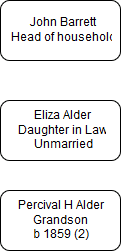 Fig 1. From the 1861 census
Percival's birth and death
There are no lines connecting these boxes in Fig 1 because the relationships and descriptions are ambiguous, perhaps deliberately so. Eliza is given as John's daughter in law but also as unmarried which is contradictory. I could accept widowed but there was no associated death of a son and it would not have been the practice at that time for a widowed woman to revert to her birth name. Still it's reasonable to assume that she is Percival's mother. If we look at the birth register there is only one possible candidate for the boy…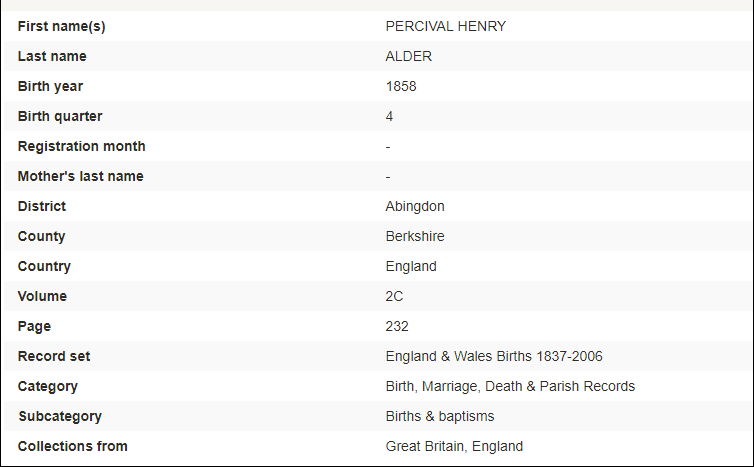 Fig 2 – Percival Alder's Birth Record
… but, unfortunately his mother's name is not given. However, it has to be him – there are simply no other realistic possibilities.

If we jump forward to 1881, his death index entry gives a modified name…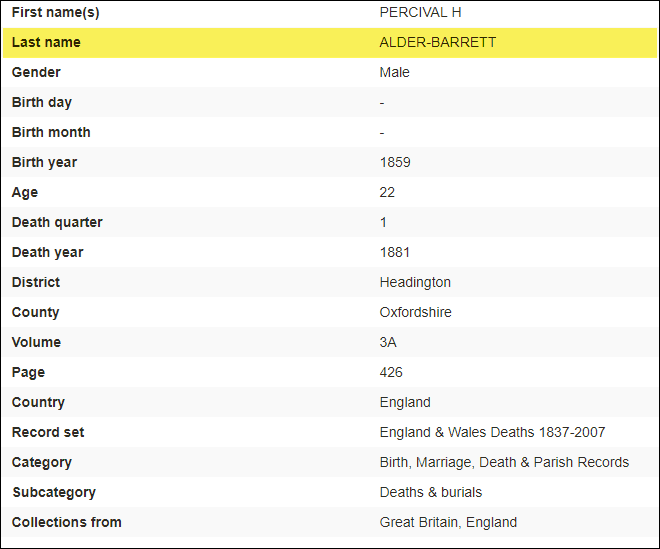 Fig 2 – Percival Alder's Death Record
… so somewhere along the line he has acknowledged some Barrett ancestry. Was he right to do so? Did John Barrett behave so "grandfatherly" towards him that he believed himself a Barrett? Did he have some actual evidence to support it?
And didn't he die young? Only 22. We'll come back to that issue.

Eliza, Percival's Mother
OK so we can be fairly certain about Percival, and it's reasonable to assume Eliza is his mother. After all, she bears the same name and is present at the same address as a two year old of the same family name when the census was taken. She is not marked as a visitor so we can assume she was resident.

What can we find out about her? In terms of baptism dates and place, there is only one realistic candidate, and look at the mother's name: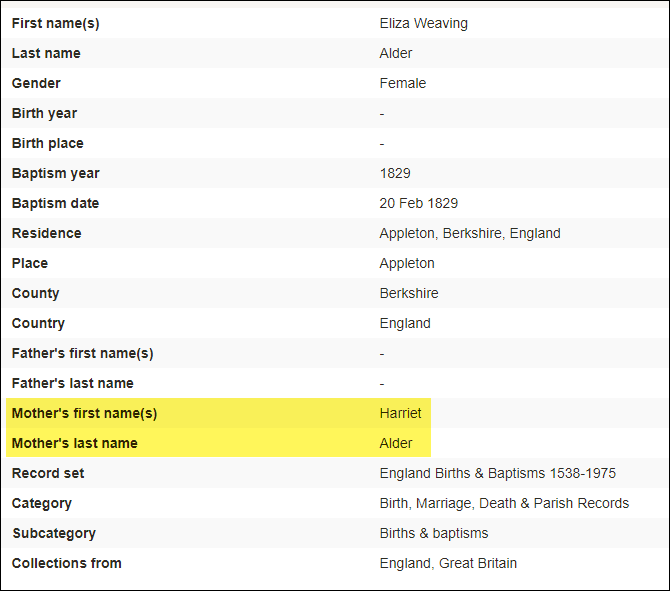 Fig 3 – Eliza's Birth Record
Appleton is just a few miles from Tubney, right in the Barrett family heartlands at that time so it seems a good probability that this is our girl. Because Eliza's mother's name was given as Harriet Alder I looked for possible matches, figuring that 1809 +/- 10 years would be about right. I found four entries:

Fig 4 Eliza's Possible Mothers
We know Number 1. She's the Harriet Alder in our tree. And so is number 2 (that's just another record of the same event). The 3 and 4 pair are not related to our tree in any way that I can find, so far.
Conclusion – Eliza's mother is possibly our Harriet, There are no other Harriet Alders in that time span.
Harriet's Secret is Concealed?
The next issue is that there is an Eliza Alder in our tree, but her relationship to Harriet is not of the next generation, a daughter but is of the same generation, a sister.
Fig 5 – The Eliza in our Tree
Something is clearly wrong. So next I looked at Eliza's parents (according to our family tree).
Harriet's Secret is Revealed?
Fig 6 – Eliza's Parents in our Tree
Look at her mother Elizabeth Winter's birth date. If correct, then she was 51 when Eliza was born. I suppose it's not impossible but it would be unlikely in the 21st Century so how likely would it be in the 19th? Meanwhile her sister Harriet Alder (our Harriet Alder) was 24 when Eliza was born. The obvious conclusion is that the true mother of Eliza is our Harriet, who had Eliza illegitimately two years before she married John Barrett on 16 Nov 1831, but she was portrayed as Elizabeth Winter's child (for reasons of propriety?)
One other possibility is that Eliza is actually John Barrett's daughter – that he and Harriet had a child before they were married which is why he was happy to recognise Percival as his true grandson on the 1861 Census. By then, both Elizabeth (1855) and her husband William (1856) were dead, so that part of the family secret could be acknowledged in an official record that would not be seen for 100 years, even if the pretence that Eliza was Harriet's sister had to be maintained because both were still alive. If that's the case then the 1861 Census Relationships from Fig 1 can be redrawn like this: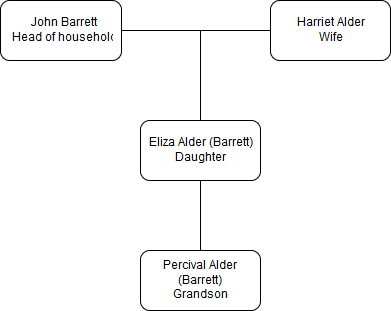 Fig 7 – 1861 Census as it should have been?
Who is Percival's Father?
I must admit that the first time I looked at the 1861 Census I had my suspicions as to why we had an Eliza Alder – Unmarried – 30 under the same roof as Albert John Barrett – Unmarried – 17, and whether there might have been a dalliance between the two, but that would mean that Eliza was Harriet's sister and Albert not only got it on with an older woman, but his blood related Aunt. But it could explain why John referred to her as his daughter-in-law. Maybe that also explains why Percival only made it to 22 – a genetic disorder? Update 08 Aug 2017: This is unlikely – and Sheila also thinks it's a leap too far – see link to her post at the foot of this post.

We can never know the true answer to this question. My hunch is that Figure 7 is close to truth because it's the most obvious. We know from the birth records that Eliza was the illegitimate daughter of Harriet. Whether John Barrett was her biological father or whether he took his unmarried "sister-in-law" in when she became pregnant, we can never know. But I do think the family tree needs to be updated to reflect Eliza's true mother, even if we have to assume 'Spouse unknown.'
Paul Barrett
03 Aug 2017
See also this post