When our family tree was imported to TNG from Ancestry.co.uk using FTM as a bridge some media became disconnected and that had to fixed.  In the process I decided I would scrutinise the documents carefully to make sure they were relevant to our family tree (because, unfortunately, you can inherit a lot of questionable content from Ancestry hints.)  Some interesting stories emerged, and this is just one of them.
Let's look at the timeline.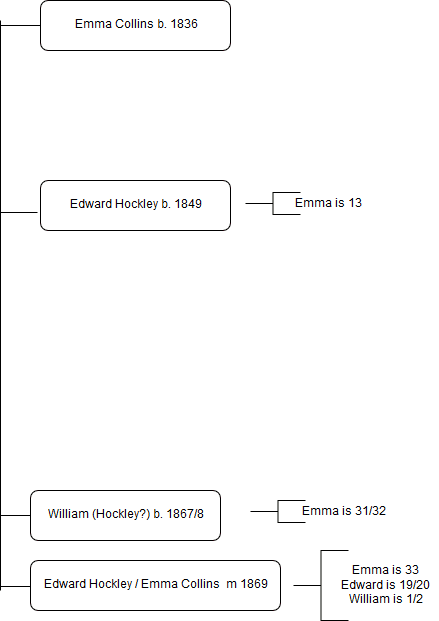 Where to start?
The distance between Bagshot in Surrey (where Edward lived) and Ickenham in Middlesex (Emma) doesn't concern me. There is plenty of evidence in our family tree of people moving considerable distances even before the coming of the railways.  By 1867/8 the railway network was transforming England.  And at 22 miles, it could be walked in 8 hours. So mobility is not the issue. The catalyst for that journey would be interesting but we'll never know.
It's the timing of the birth of William Hockley and marriage of Edward Hockley to Emma Collins that intrigues me, together with the fact that on the 1891 Census, William is described as an "imbecile."
There are various possibilities.
At the time of his birth, William was certainly the illegitimate son of Emma.  The only birth record I could find for William Collins omitted his mother's name, which was common in cases of illegitimacy.  There is no birth record for William Hockley.  William was born in Ickenham not Bagshot.

Was Edward the father?  At the age of 17/18? If so, why did they wait for up to two years after the birth of the baby to get married?  Perhaps Edward's family disapproved of his relationship with a woman 13 years his senior and would not give their consent but relented when they saw a lasting relationship.

Perhaps William wasn't the father.  But if that is the case why would a 19/20 year old man take on an older woman and someone else's child?

There is also evidence in our family of parents with young children being widowed and the surviving parent remarrying with what seems like unseemly haste by today's standards. A widower has to look for a substitute mother to care for the children while he works.  The situation is far graver for widows who, faced with destitution after the loss of the family's only income, quickly seek out a new partner.  Perhaps this is what happened.
Then there's the question of William's  status as an "imbecile" to consider.
According to the 1881 Census Report:
No accurate line of demarcation can be drawn between the several conditions indicated by these terms [idiot, imbecile, lunatic]. Speaking generally, however, the term idiot is applied in popular usage simply to those who suffer from congenital mental deficiency, and the term imbecile to persons who have fallen in later life into a state of chronic dementia. But it is certain that neither this nor any other definite distinction between the terms was rigorously observed in the schedules, and consequently no attempt has been made by us to separate imbeciles from idiots. The term lunatic also is used with some vagueness, and probably some persons suffering from congenital idiocy, and many more suffering from dementia, were returned under this name.
Considering that householders, who could be illiterate, were being asked to give information about medical disabilities without any definition of the terms being used the answers should be treated with caution. Also they would be unwilling to admit that anyone in the family had medical disabilities.
When 'feeble-minded' was substituted for 'idiot' in the 1901 census the number of persons recorded with mental disability rose markedly, because, apparently the former term was considered much less derogatory than the latter.
Obviously we can't rely too much on the term "imbecile" given on the Census.  I think we can assume that William's condition occurred early in his life, because by the age of 23 he had no job, while his contemporaries would be 10 years into their working lives.
If William's disability was mild it may not have been obvious at the time Emma and Edward became involved.  If it was obvious then you would have to ask why Edward would take on this family? And the most obvious answer is, the child was his.
That brings us back to the question of why they waited to get married for nearly two years, and lack of parental consent by Edward's parents is an obvious solution.
Much of this is wild speculation.  It would be good to know the truth but that's unlikely to happen unless someone reading this knows, in which case we'd love to hear from you.
Paul Barrett